Summer Tea Party
This year's Summer Garden Tea Party will be held on Friday the 29th of June at 2 o clock.
We would ask that each resident has 2 relatives/visitors attend.  There will be tea, coffee, cakes and ice cream and some entertainment to enjoy Including a special performance from the newly formed resident's choir group.
Hopefully we will get the wonderful weather that we have been getting over the last 2 weeks.
If you are passing the reception at some stage over the next few weeks, please just let the girls know if you can attend and maybe how many so we have an idea of numbers.
We are Looking forward to seeing you all there.
Relatives Meeting
Thank you to everyone for attending the family meeting earlier in the month. We were delighted to see so many of you come along.
We have attached the minutes of the meeting over leaf for anyone who may have been unable to attend.
As always, if you would like to discuss care plans or any care queries with Mary our DON or Julia our ADON, please give a call to reception and make an appointment so we can ensure to afford you the time needed to discuss the care of your loved ones.
Visiting
We would ask all visitors to avoid visiting during meal times
Breakfast is usually finished by 10.30
Lunch is from 12.30 – 2
Dinner is from 4.45 – 5.45
When visiting please ensure to sign in and out before entering the building. The new GDPR compliant visitors book is located in the same place at the front door. Please fill your name in on the black section and your residents name on the second black section and your entering time and leaving time just after.
We would appreciate if you could pass on this message to the rest of your family and other visitors who may visit your resident as it is a very important document for us, particularly for fire safety.
The visiting room has been moved from upstairs, down to the parlour in Coolballow. Tea's and Coffees are available in the kitchenette beside the parlour and if you need any help please ask any of the girls or reception.
The gardens are absolutely beautiful at this time of year. The entrance to the main garden is out through the main sitting room. If you would like to bring your resident out to the sunshine please feel free.
Also if you are taking your resident out of the building/ off the premises please ensure to let your nurse know and ensure your contact information is on the outings form (please ask reception)
Gentle reminder to use sun-cream if the weather is as nice as it has been the last few days.
Team Newbie!! 
We would like to introduce a new member to our Team.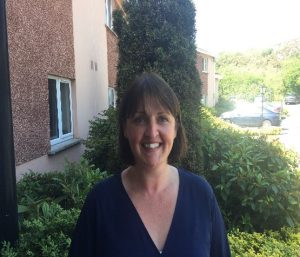 Catriona has started with us as of the end of May and will be our new Activities Co-Ordinator.
Catriona's main objective will be to organise activities that suit our residents and incorporate all our residents both individually and in groups as they wish.
We look forward to see what Catriona has in store and no doubt the residents will enjoy and get great benefit from the activities that will be going on in house.