I hope you all enjoyed the wonderful few days of sunny summer that we had in June. Fingers crossed for a few more days as nice during the next few weeks.
Thank you all so much for your patience during the construction work which has been ongoing through May and June.  We do appreciate that some of the days during construction have been quite loud at times. However we are now at the end of our works and the doors to our new Roxborough sitting room will be open on the 6th of July. The space that has been created will give a large, bright and safe day room for the Roxborough area along with a central nurse's station and a direct link into the extended dining room.
The new centralised sitting room upstairs in Ronans is also near completion and will be open by the 20th of July.
Our resident Una Connick reached a huge milestone during June. Una celebrated her 100th Birthday on the 28th of June with Family and friends, staff, a few surprise visitors along with a celebration in Mary Barry's Kilmore. Thank you to everyone who made Una's Milestone a special one.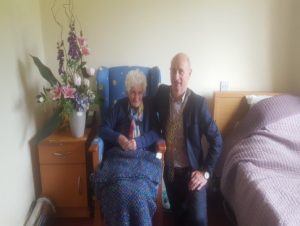 That time of year again, Summer Party Time!!
This year's Summer Garden Tea Party will be held on Saturday the 29th of July at 2 o clock.
We would ask that each resident has 2 relatives/visitors attend.  There will be tea, coffee, cakes and ice cream and some entertainment to enjoy. It would be fantastic, if you are passing reception, to just let the girls know if you can attend and maybe how many so we have an idea of numbers. Hopefully the Sun will be out for the day.
Although we provide a service 24/7 and our reception is manned during the weekends, our offices are officially open from 9-5, Monday to Friday. Just a reminder that we are trying to keep all business and payment related activity to these office hours of 9-5 Monday to Friday. We would really appreciate if any payments or questions are submitted during these times. We realise that this may be awkward for some, however we feel it is necessary for implementing safety and efficient practices. If there is anyone still using cash payments it would be fantastic if you would consider switching to a direct debit or card payment, we would suggest that these are safer payment options for everyone. Finally, on a quest to reduce paper, as well as become more efficient, we are now using emails to send invoices, if anyone else would like to receive the monthly invoice via email please just let us know at reception.
If anyone would like to make an appointment to discuss care contracts/care in general or if you have any questions at all, please make contact with reception and we will organise a meeting and answer your questions.
Enjoy your summer!