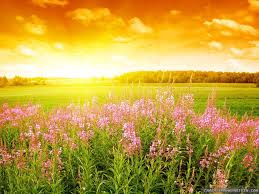 Hi everyone, another summer newsletter has come around very quickly.  I hope everyone has had a chance to get out in the sun.
A lot has happened over the last few months.
Thank you all so SO much for your kind support of our annual
Alzheimers Tea Day
Alzheimer's Tea Day on the 5th of May. We raised €1000.00 for a fantastic cause that is so close to our hearts here in the nursing home and a growing concern in our community. The funds we raised with all your help will stay in the local Alzheimers society office and go towards helping Sheila Gallagher, the Wexford representative, with support groups and care for people with Alzheimer's.
Although the last week hasn't been great weather, there have been some beautiful days. We have seized every opportunity possible so far this summer and the garden is getting great use. Please do the same and when visiting use the garden to go out for a walk around the paths, sit outside for a chat rather than in. If you would like a tea or coffee just ask at reception and we'll bring it out to you. If would be such a shame not to use the beautiful gardens that we are blessed with as much as possible.
Party Time!!!!
Our Annual Summer Garden Party is going to be held on the Thursday the 21st of July @ 2 o clock.
We would ask that each resident has 2 relatives/visitors to attend.
There will be tea and coffee, cakes and Ice-cream and some entertainment for everyone to enjoy.
Dancing afternoon
As part of their community outreach programme, on the  24th of May, a group from Zurich Insurance came over to us for an afternoon and gave us a right old sing song and a dance. The group of musicians were absolutely fantastic.
All the residents got involved with the singing and there were quite a number up for a dance. Nicky Lacey must be mentioned for his passionate rendition of 'Nicky Rackard' which had everyone passionately belting out the chorus.
This is something that we will definitely look forward to again in the future. Zurich Insurance, thank you, it was a wonderful afternoon and very much appreciated by everyone.
Awards Night
This year we were shortlisted for the Operational Excellence Award at the Wexford Chamber Business Awards 2016. Unfortunately we lost out to The Talbot Hotel but we had a wonderful night and we thank everyone for your continuing support.
Being shortlisted for such an award is a huge credit to the amazing and hardworking staff that we have working with us. Their dedication and attention care to all the residents does not go unnoticed and it is lovely to see it recognised outside of the home also.
Just the usual reminders:
Please do not feed the dogs. They are here as pet therapy dogs and should not be fed by anyone. This is for their health.
Wexford Bus is providing a fantastic service and will stop on the main road right outside the nursing home.
If you are taking your resident out at any stage during the day, please let us before leaving. Just so we know where everyone is and panic isn't caused.
The yellow box in front of the main door entrance is ambulance use only. When picking up and dropping off residents please use the three wheelchair spaces beside the front door.
The reception is only manned from 9 til 5 and thereafter we ask that all visitors to the home be extra vigilant about ensuring the door is closed properly when you are coming in and leaving.
The visitors book must also be signed for no other purpose that fire safety. Please everyone try and make it a habit of signing in and out of the building as it is part of our fire policy.
Although we provide a service 24/7 and our reception is manned during  the weekends, our offices are officially open from 9-5, Monday to Friday.
At the moment we are trying to keep all business and payment related activity to these office hours of 9-5 Monday to Friday. We would really appreciate if any payments or questions are submitted during these times. We realise that this may be awkward for some, however we feel it is necessary for implementing safety and efficient practices.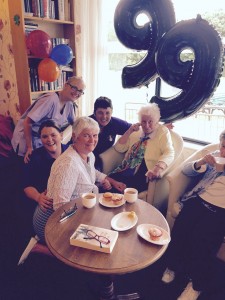 Our very own, Una Connick celebrated her 99th Birthday last month and we had a lovely celebration with all the residents for Una to mark the occasion. Congratulations Una on your big day.